Poor Dog Saved and Living His Best Life! Thanks Humans~!
When rescuers located a dog trembling with fear and pain in a dark and filthy dungeon-like basement, their hearts were torn into a million pieces.
It was Dec. 21, 2016, merely four days before what should be a jolly time, when animal rescue group "Viktor Larkhill Extreme Rescue" received a call about a possible case of animal abuse.
"It happened just before Christmas," Viktor Larkhill, an animal rescuer, wrote on Facebook.
An abandoned and assumably abused dog was sheltering in a building.
After locating the building, the rescue team scoured high and low for the trapped animal.
They discovered a door that led to a basement.
"Deep inside a dungeon filled with derelict chicken cages, I found a dog, Toby. He was in the worst condition imaginable."
"The room was covered in debris, bird remains, rat feces, pools of urine and dry blood," Larkhill described in an April 10, 2017, article on LetsAdoptInternational.
"Cold and humid, an acid smell lingers and hurts our eyes and nose, in a corner, rolled onto himself to preserve whatever heat he could, there was a dog, hairless, weak, shaking in pain, barely strong enough to lift his head that looks at me with pleading eyes."
It was utterly heartbreaking for the team to witness the vulnerability of such a lovely creature living under such appalling conditions.
Without a moment's delay, the team lifted him up and carried him out of his prison to freedom.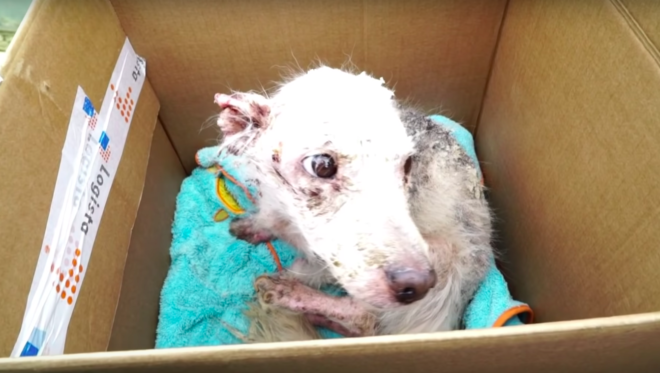 Vets discovered Toby to be suffering from leishmaniasis, a disease spread by the bite of certain types of sandflies. He also had ehrlichia, which is a tick-borne disease, and a blood infection.
But Toby bravely endured, and within four months all of Toby's diseases cleared up.
His white fur grew back soft and silky, and as his lovely dark eyes reflected, Toby was looking and feeling so much better. In fact, his transformation was miraculous.
Sadly, Toby's broken bones hadn't set properly due to a lack of professional care, and he was incapable of walking due to swollen joints.
Moreover, his left leg's joint was damaged by the leishmaniasis, which dissolved his bones, rendering him unable to walk.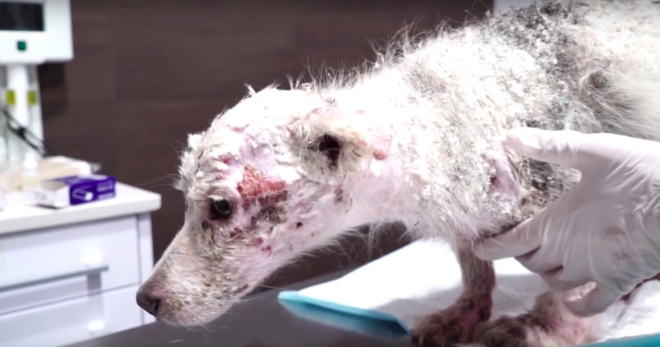 The pooch required surgery to have a titanium plate inserted at the joint, which would keep it in place, which is why Larkhill set up an account to raise funds for Toby's surgery.
Although there are no further updates available on Toby's progress, it's relieving to know the little pooch was found and ended up in caring, capable hands.
Watch the video below:
Tags :
Aww